The Most Iconic Bridges in The World
A good bridge is one that connects two different places in an efficient and practical way while being safe. Iconic bridges go beyond simply doing their functional job as most of them are impressive achievements of engineering while also being marvels of architecture. Facilitating people's lives, being landmarks that impact the scenery around them or being a historical landmark, that's what it takes to make an iconic bridge. Here are 5 of the world most iconic bridges:
Bridge over River Meles 
Often referred as the caravan bridge, the bridge over river Meles is a simple single-arch stone bridge that spans less than 43 ft in Izmir, Turkey. What makes this bridge iconic is its age; it was built around 850 B.C. making it over 2,860 years old. Even more fascinating is that it is still being used to this day. Other recorded bridges may be older, but this is the only one that still functions not only as a landmark but also as a fully functional bridge.
The Ancient Greek author Homer, who wrote "The Iliad" and "The Odyssey", was called the son of Meles because he was born on the bank of the river and the caravan bridge is also featured in his works. 
Madgeburg Water Bridge
Connecting Elbe-Havel canal to Mittelland canal in Germany, this water bridge is the longest navigable aqueduct in the world spanning 3,012 ft over land and water. The project to connect both canals was being planned since 1919, and construction began in the 1930s, but the Second World War halted construction and the project stopped after Germany was split in the Cold War, only resuming in 1997 after the reunification taking 6 years to be completed.
The bridge has more than 24,000 tons of steel and 68,000 cubic meters of concrete, construction costs were around 600 million USD. With a width of 112 ft and depth of 13.9 ft, each ship can carry the equivalent of 50 truckloads, 1,350 metric tons. Apart from being of economic importance it has also appeared in many movies.
Sydney Harbor Bridge
Along with the Sydney Opera House, this iconic bridge defines the landscape of the city, being featured in tourist photos and postcards. It opened in 1932 after 8 years of construction and spans 3,770 ft with a clearance for boats at about 160 ft and the steel arch has a height of 440 ft.
It was the world's widest long-span bridge until 2012 and it was added to the Australian National Heritage List in 2007 due to its cultural importance to the country.
Millau Viaduct
Standing at a height of 1,104 ft, this cable-stayed bridge above the Tarn River near Millau in Southern France is the tallest bridge in the world. It was built as part of a motorway connecting France, starting in 2001, and was completed in 2004. It is considered as one of the greatest achievements in engineering of modern times and cost around 424 million USD.
The speed limit of the bridge was reduced from 81 mph to 68 mph because tourists would slow down to take photos and cars were stopping to look at the view on the side of the roads.
Akashi-Kaikyo Bridge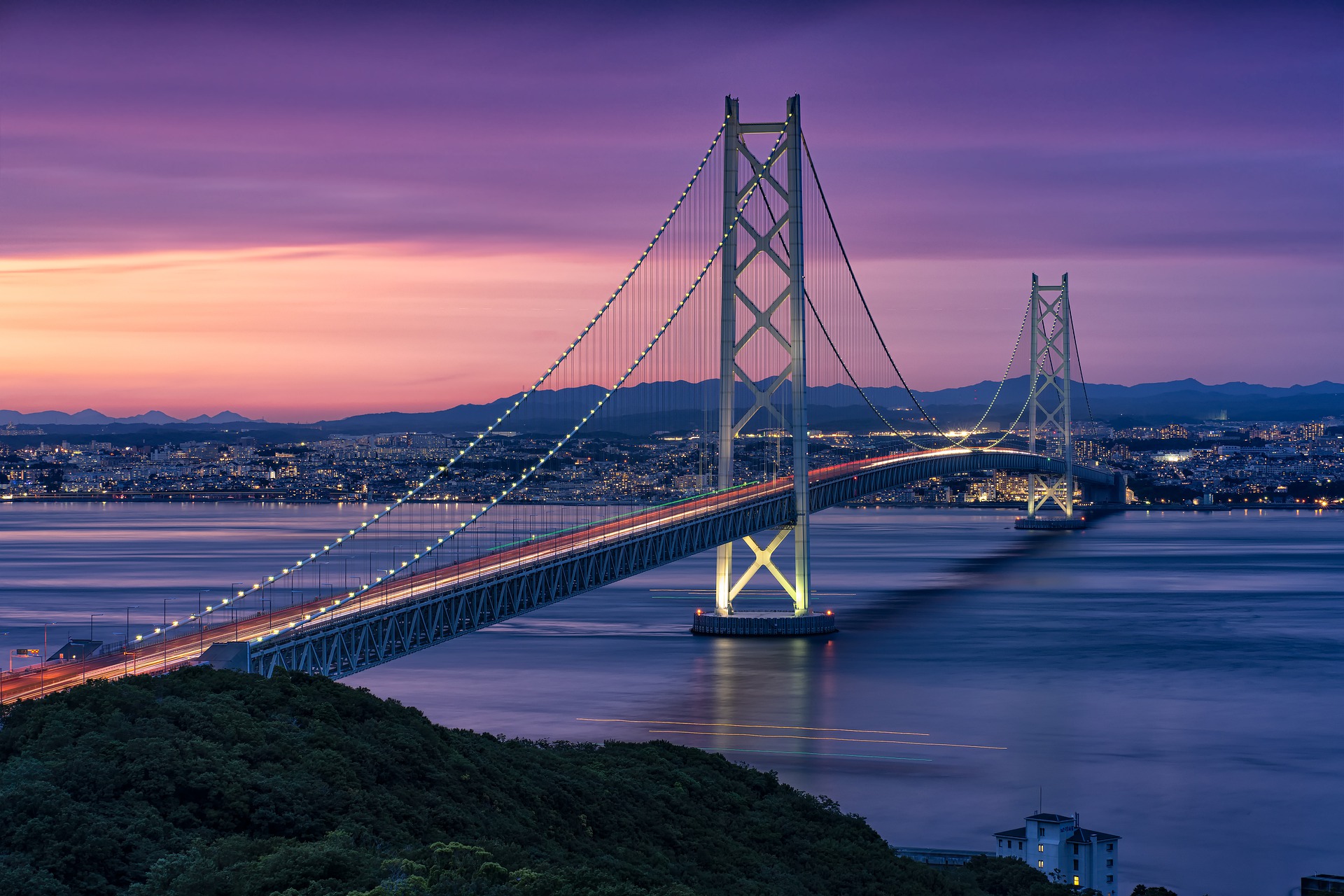 The bridge that links the city of Kobe to Awaji Island in Japan spans 12,831 ft, or 2.43 miles, is the longest suspension bridge in the world with its main span being 6,532 ft. It took 12 years of construction and was completed in 1998 as part of the Honshu-Shikoku Bridge Project in order to connect the Honshu and Shikoku Islands which were only connected by ferry before.
Estimated costs for construction were around 3.6 billion USD and the bridge is used by roughly 23,000 cars every day.
These are 5 of the most iconic bridges in the world, which ones do you think would also fit in this list?