Duke's Place: Michael Dukakis on How to Fix America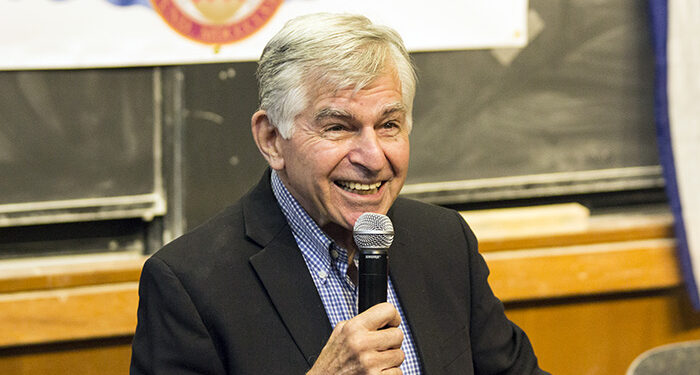 One thing that is fair to say about Michael Dukakis is that he has always looked to do the very best for this country and he is a very important voice in the national debate taking place with regards to infrastructure. There is no two ways about it, the country does have an infrastructure crisis happening right now and we need some reasonable and experienced thoughts from people like Dukakis.
When George Bush Sr. beat Dukakis to the presidency turbulent times in '88, it was generally thought that he would take the infrastructure issue, which at the time was just seedlings of failure, and tackle it head on, he didn't, and Dukakis has not forgiven him for it. 
What He Would Have Done 
We were able to have some correspondence with Dukakis, who is now lecturing at UCLA. The first question we wanted to know is what would have happened had he won the presidential election 3 decades ago, with regards to infrastructure specifically:
"Oh Christ, we'd have been at this thing all guns blazing…If I'd served as president for eight years? I certainly think so"
Rail Crisis
So far Dukakis has given high praise for Barack Obama but there is certainly a sense that he is missing an opportunity to fix the rail situation. The recent stimulus package, the House version in particular, saw a proposed $5 billion for Amtrak and intercity rail get pegged down to somewhere closer to the $1.1 billion mark, something which Dukakis isn't worrying too much about;
"Well, does Amtrak have a billion dollars worth of shovel-ready projects? No, they really don't. They've got $300-400 million. Could they get up to speed? Yeah, but they've got to get up to speed. Part of the problem is that we've so under invested in infrastructure for so long that our capacity to do this stuff has been weakened."
Getting To The Heart of The Issue
Whilst we could have no doubt spent the day discussing the problems that exist and why they do, I was very keen on trying to get to the heart of the issue with Dukakis. It is very much his opinion that the biggest issue which we have is that there is a serious public construction management problem in the country. Citing his two projects which he set forth as Governor of Boston, The Big Dig and the Harbor Clean Up, Dukakis was keen to stress how important competence is. 
"If I may say, my guys were running the Harbor Cleanup and [former Gov. William] Weld's guys were running the Big Dig. The reason that the Harbor cleanup was under budget was because the folks running the show in 1989-90 when I was still governor were smart enough to know that you want get out the bid when the economy is down and contractors are hungry."
Whether or not Dukakis would have been a great President we will never know, one thing that is for sure however is that our infrastructure issues would have been solved a long time ago.